IOT Clinches 10-Year Power Deal With Global Blockchain Play
PUBLISHED: 08-05-2018 10:00 a.m.
IOT Group (ASX:IOT) has just released noteworthy news regarding its latest developments in the rapidly expanding world of blockchain technology.
Last time we wrote about IOT Group, the micro-cap was proposing a unique step forward as far as these ambitions go, proposing the creation of a Blockchain Applications Complex (BAC) in the Hunter Valley region to facilitate numerous commercial and research-based blockchain applications.
Now it is clocking up the wins towards that goal at a rapid pace.
IOT is working towards constructing Australia's own billion dollar 'Blockchain Valley', a bit like Silicon Valley in San Francisco where like-minded experts can cultivate new and innovative technologies.
Once achieved, it will be the largest blockchain operator and data complex in Australia.
At this stage in its plans, it's all about brokering deals with big players to get this potentially game-changing idea off the ground.
Just this week the company signed up one of the world's largest Bitcoin miners for its proposed BAC — Royalti Blockchain Group (RBG), which is BitFury's authorised Australian integrator.
The binding term sheet relates to the installation of BitFury's blockchain hardware solutions to operate within IOT's BAC complex.
The cornerstone agreement stipulates the purchase of 20 Megawatts of power over a ten-year term at an estimated cost of A$0.11 per KWh, which would result in significant revenues for the A$4.7M-capped IOT...
In addition there are two other contracted crypto currency miners that could further increase the annual income per year, also delivering substantial revenues and profits to the IOT Group each year.
Of course, any numbers are speculative at this stage, so investors should take a cautious approach to any investment decision made with regard to this stock and seek professional financial advice.
This big news came hot on the heels of an announcement last month from IOT stating it had sealed a deal with Hunter Energy to host its new BAC.
Hunter Energy happens to be behind the recommissioning of Australia's 150 megawatt Redbank power station. That development made IOT the first in Australia to situate its blockchain equipment and infrastructure at a power station's energy source — allowing it to offer pre-grid cost effective power prices (i.e. wholesale prices) to future blockchain operator clients.
In the same month, IOT also partnered with global blockchain specialist Lakeba to assist in the development and building of IOT's Blockchain projects. Lakeba is an established studio headquartered in Manly, NSW, with extensive experience delivering solutions that incorporate the latest technologies such as AI, mixed reality and blockchain.
The idea behind this partnership is to help guide IOT's entry into the burgeoning blockchain market, and enable it to offer energy to consumers through the blockchain.
All of this comes via IOT's recently incorporated wholly owned subsidiary, IOT Blockchain Advisory Service Pty Ltd, created with exactly these kinds of opportunities in mind.
Also in April, IOT announced two newly signed clients for the BAC complex — Abacus Mercantile and Crypto Mining Australia, further bolstering its enviable revenues pipeline.
There's clearly plenty to cover, so let's jump right into our update on:

Early days for BAC project, yet IOT already in bed with major Bitcoin miner
While our previous article, 'When Blockchain Meets IoT: IOT Group to Tap Multi-Billion Dollar Energy Market' went into detail about IOT's BAC proposal, and its key first win with Hunter Energy, yesterday's update shows that the company is serious about turning this ambition into a reality.
Yesterday, the small cap announced a conditional binding Term Sheet it had co-signed with Royalti Blockchain Group (blockchain giant BitFury's authorised Australian integrator). BitFury is the largest full-service blockchain technology company in the world.
The agreement stipulates that IOT will house BitFury's severs within its BAC (Blockchain Applications Complex) in the Hunter Valley, and it comes with a solid list of good reasons such as cost-effective power, reliability of supply, scalability and surety of sovereignty to name a few.
The intended Power Purchase Agreement is for 20 Megawatts of power over a ten-year term at an estimated cost of A$0.11 per KWh.
That's a significant discount to the average retail rates for VIC, QLD, NSW and SA:

IOT's intended price of 11c per KWh is well under half that of the cheapest state average, and about a quarter of that being paid in the most expensive state.
The deal with BitFury will involve Royalti Blockchain Group building and supplying the infrastructure and servers, with IOT committing to provide land and power.
We are willing to bet that IOT are pretty chuffed to have the big name BitFury in its corner, and with such a major cornerstone agreement already in hand.
The finer details of the timing will be negotiated between the two parties when they enter into a more formal legally binding PPA as soon as practicable, and by no later than 1 October 2018.
The term sheet with Royalti is subject to a few conditions, including:
Completion by Hunter of its proposed acquisition of all right, title and interest in the Redbank Power Station.

Completion occurring under the binding terms sheet between IOT and Hunter for the establishment of the BAC.

All necessary shareholder and regulatory approvals being obtained.

The parties entering into formal definitive Power Purchase Agreements.

As part of the agreement, both parties committed to the following (subject to the conditions precedent as mentioned above):

IOT providing to RBG a 4 or 6-inch cement platform/floor.

IOT providing to RBG sufficient land at the Red Bank Power Station to incorporate RBG's BitFury Blockchain Hardware facility, which is not to exceed 1 Hectare.

IOT providing to RBG 20 megawatts of power to RBG at an estimated cost of 11 cents (AUD) per KWh.

RBG will purchase from IOT 20 megawatts of power consumption for five years, with an option for an additional five years (10 years in total), with further options to be on terms to be agreed.

IOT is on a mission to bring about its BAC complex, and it's no wonder when you look at the potential benefits.
It could play a major part in conveying a whole new tech industry to the country. One of the factors influencing this is the fact that previously, Bitcoin or cryptocurrency miners would not consider coming to Australia because the cost of power is simply too high to make them competitive.
And how are IOT able to do all this this? Through an agreement they announced last month with Hunter Energy.
As we covered in last month's article, IOT signed a landmark agreement with Hunter Energy to develop its BAC, and get direct Power Station access.

Hunter Energy is currently hard at work to recommission an existing power station in the region — Red Bank power station — as well as acquiring all of the associated assets, with the goal of beginning power generation in the first quarter of 2019.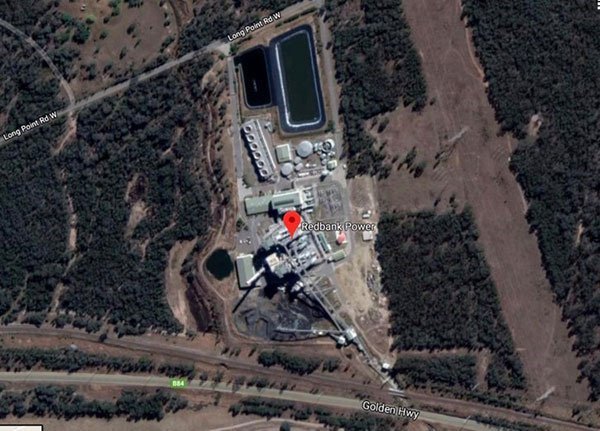 If Hunter Energy's plans come to fruition, IOT's agreement will give it access to power at wholesale pricing... which it can then pass on to its burgeoning-blockchain-biz clients. When we're talking about the enormous rates of power used by blockchain businesses this becomes even more of a big deal.
For example, as far as Bitcoin goes, the average usage per transaction averages out to about 215 kilowatt-hours (KWh) of energy used by the mining process. Considering that the average US household consumes about 901 KWh per month, one Bitcoin transaction uses approximately the same amount of energy as the average house over one week.
So you can see why securing cheap and reliable power sources are vital for businesses in this field.
As such, this deal could work out extremely well for both Hunter Energy and IOT.
Although it is early stages in this deal and investors should seek professional financial advice if considering this stock for their portfolio.
Being able to provide a hub offering power at wholesale prices to blockchain businesses, and located just two hours from Sydney, could see a significant amount of interest from international businesses.
If successful with its BAC ambitions, IOT will become the first in Australia to offer these kinds of pre-grid cost-effective prices to blockchain operators.
Remember, too, that blockchain is a rapidly expanding tech corridor, with a global market that's expected to grow from US$412 million (A$534M) in 2017 to US$7.68 billion (A$9.97B) by 2022.
IOT joins forces with blockchain specialist Lakeba
Just a few weeks ago the company informed the market it had clinched a partnership with global blockchain specialist, Lakeba, to create, develop, structure and build IOT Blockchain projects.
Headquartered in Manly, NSW, Lakeba is an established studio with extensive experience delivering solutions that incorporate the latest technologies such as AI, mixed reality and blockchain.
The studio's existing partnerships make for an impressive list of big names in tech including Google, Intel, Samsung and Microsoft.
The new deal penned by IOT will see Lakeba providing its services to not only the small cap itself but its future blockchain clients, likely involving secondary service agreements in respect of each separate project.
Lakeba will analyse and review IOT's clients to create white papers on how they can use blockchain to make their businesses more efficient; and devise the technical design and build the blockchain to suit IOT's clients' businesses.
It seems IOT has made a strategic new friend here, and one that could give the small cap the expert firepower it needs to retain existing clients and attract new ones.
IOT secures blockchain clients Abacus Mercantile and Crypto Mining Australia
Before it went to the market with its BitFury deal, IOT had already clocked up two new clients for its blockchain venture — Abacus Mercantile and Crypto Mining Australia.
Its subsidiary, IOT Blockchain, signed binding term sheets with the two clients to operate within the proposed BAC complex, for an initial three years with an option for a further 3 + 3 years. Both agreements are for supply of approximately 2.5 megawatt load for more than 1000 machines. The deals involve a monthly fee per machine, as well as a long-term Power Purchase Agreement.
Both Abacus Mercantile and Crypto Mining Australia are keen to expand their operations through the IOT deal, and get the advance of low-cost power, reliable supply and the capacity to scale... but in similar fashion to the BitFury deal, the term sheets are subject to satisfaction of preceding conditions for the BAC, as we've already outlined.
At this stage, it's all about deal flow for IOT
For IOT, its blockchain story is only just beginning.
All of the deals we've mentioned in this update are there to generate long-term revenues (and ultimately, major profits) for IOT's new strategically-timed BAC venture in the Hunter Valley.
And management has expressed confidence that it will secure even more blockchain-related agreements as the year progresses...
IOT still has a lot of work to do in this space and investors need to remain cautious if considering this stock for their portfolio.
At Next Crypto, we wouldn't be surprised if these developments inspire some optimism from IOT's shareholders in the coming weeks.
If IOT can keep up the pace, this little innovator could be looking at some big gains as it looks to unchain its power-hungry blockchain ambitions.
---